Life gets in the way, doesn't it? I got pretty well slammed with work and the show I'm directing and oh, it's Christmas already? But everyone did and everyone does and so it will be through the end of time. The good news of all of this is that my color-block muslin was back-burner-ed. What say you? How could that possibly be good news? I'll tell you - by SHOWING you: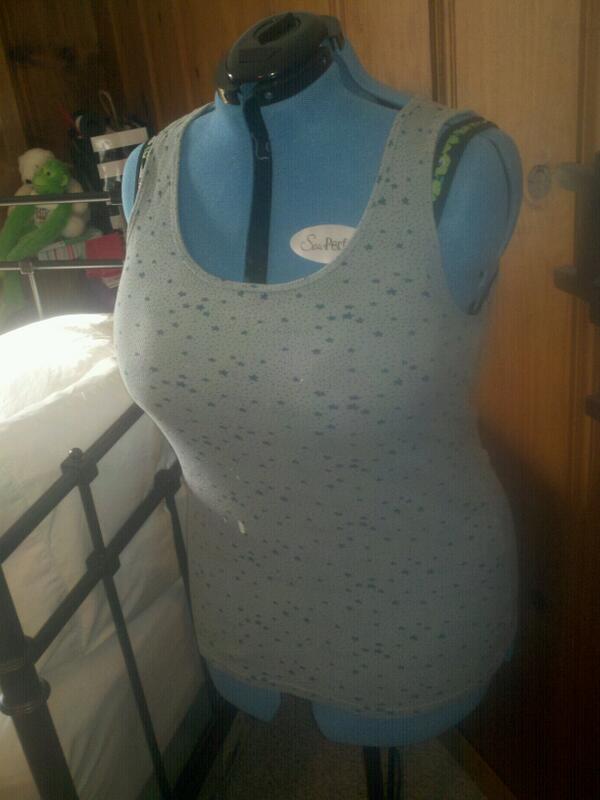 Isn't she lovely?! I mean, she's not. Her tank top has paint on it and her bra strap is showing, but I just love her. Mom and Dad surprised me with the form on Christmas morning, and I spent the rest of the afternoon manipulating her dials and examining her inner workings. (
NOTE: I'm aware that this took a weird tone. I apologize for it, but there's nothing to be done. The strangeness of creating a duplicate self locks it all in.
)
I believe I've mentioned before that I have a great deal of trouble fitting myself - always weird tension through the shoulders or the neckline cut too broad or something - I just can't seem to get it right. Following some advice I garnered from
here
and
here
, along with other places I can't recall at the moment, I focused on getting the upper bust measurement correct first. I was, frankly, a little concerned - they had gotten me a size medium model and I am decidedly not a size medium...but it seems to have worked. Once fully expanded, the UB matches, and I just so happened to have busted out an underwire in that bra and hadn't thrown it out yet, so it was called into service yet again. I stuffed the cups with some polyfill I happened to have (
which is something I never thought I would do, let alone discuss with potentially mixed company
). Unfortunately, I did not have any batting to put around her waist and bottom (
oh, to be so slim hipped...
) so I had to halt my progress there, circumference-wise.
Short-waisted though I am, I did have to lengthen her just few inches - I'm sure I'll have to check again once I get my batting and add my booty. I'm going to get said batting at lunch, so she'll be finished tonight, and I can cut out the pattern for the princess seamed beauty to see how the tissue fits. My show opens just two weeks from Friday, and I'd love to be able to wear my blue opening night!
I have grand intentions for my new form -
adding arms
for the dreaded sleeve fit and covering her with a toile I can mark up to my heart's content are the first two on the list - but I feel sort of awkward just referring to her as "Her" - she needs a name. I put out an appeal on Twitter, but my friends must have thought I was joking. Any ideas out there? Meredith, maybe...Genevieve? Something slightly musty with lots of syllables that can be abbreviated to something preppy and obnoxious...I'll find the one that fits - and then we'll get to work on fitting me! (
Oh, the puns...
)